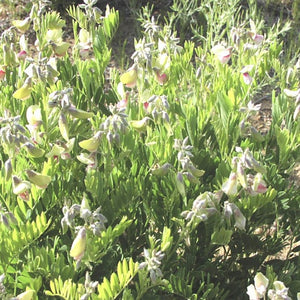 *This item is not for sale and listed as a plant library product for educational purposes only.

LATIN NAME
Tephrosia virginiana
LONGEVITY
Perennial
SEASON
Warm
ORIGIN
Native
DETAILS
• Also known as, "Goat's rue", Devil's shoestring", and "Catgut".
• Flowers April to June.
• Adapted to sandy soils of plains, clearings and open wood stands.
• Roots of this plant contain rotenone, an insecticide, and fish poison.
• In a weakened form, it was used medicinally by the Indians and early settlers. The strong, roots were boiled by the Cherokee, and a weak tea was given to the children to make them strong and muscular.
• Deer browse the foliage; bobwhite quail and wild turkey will consume the seed.
• Is nutritious and palatable to all livestock.
• Will disappear in heavily grazed areas.
QUALITY TRAITS