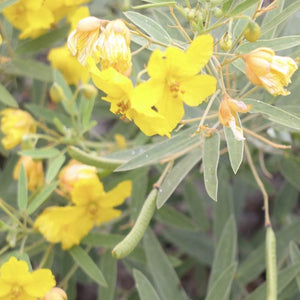 *This item is not for sale and listed as a plant library product for educational purposes only.

LATIN NAME
Senna roemeriana
LONGEVITY
Perennial
SEASON
Warm
ORIGIN
Native
DETAILS
• Also known as, "Two-leaved Senna".
• Flowers April to September.
• Adapted to poor, dry, limestone or clayey soils in fields, open woodlands, and on hillsides and slopes.
• The name refers to the leaves that are divided into two leaflets, each measuring two to three inches in length.
• Is toxic to cattle, goats and horses.
• Considered an indicator plant of decreasing range condition.
QUALITY TRAITS