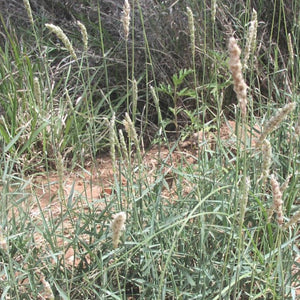 *This item is not for sale and listed as a plant library product for educational purposes only. 

LATIN NAME
Hilaria mutica
LONGEVITY
Perennial
SEASON
Warm
ORIGIN
Native
DETAILS
• Has short stout rhizomes and a perennial stem where new growth originates.
• Often burned to increase the palatability to livestock.
• The central stem of the seedhead is wavy and remains after the seeds drop. The seeds appear papery and fan-shaped with torn edges.
• A low seed producer, reproduces primarily from rhizomes
• Starts growth when adequate temperatures and moisture are available.
• Grows best on adobe (clay) flats and upland clay loams, giving rise to the common name, "Tobosa Flats". Occasionally grows on loams and sandy loams and on slopes.
• Forage quality is fair for livestock until the seedheads appear.
QUALITY TRAITS