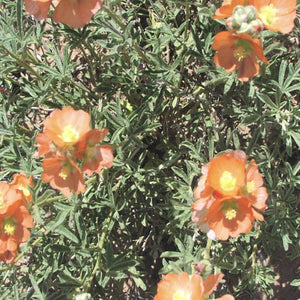 *This item is not for sale and listed as a plant library product for educational purposes only.

LATIN NAME
Sphaeralcea coccinea
LONGEVITY
Perennial
SEASON
Warm
ORIGIN
Native
DETAILS
• Growth 4 to 14 inches tall
• Flowers May to August
• Readily consumed by wildlife and livestock
• Said to contain high levels of vitamin A.
• Very drought resistant; loses most of its leaves before dry weather begins.
• Native Americans consumed scarlet globemallow roots during periods of food shortage. The Cheyenne made a tea of ground roots, stems and leaves to mix with other medicines to make them more palatable. The Comanche used a scarlet globemallow infusion to treat swellings, and the Dakota chewed the plant and applied it as a salve for wounds and sores.
• Adapted to dry open prairies with sandy or gravelly soils.
QUALITY TRAITS