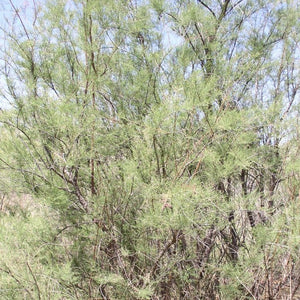 *This item is not for sale and listed as a plant library product for educational purposes only. 

LATIN NAME
Tamarix ramosissima
LONGEVITY
Perennial
SEASON
Cool
ORIGIN
Introduced
DETAILS
• Growth form is a shrub with contorted branches, or a tree to 30 foot height with a twisted trunk.
• This species was introduced from Europe; it now grows as an invasive plant along water courses. This plant has become a major problem in Texas.
• Flowers May to June; fruit matures during the summer.
• Saltcedar does not provide good browse but does make excellent cover for wildlife.
• Adapted to moist areas along creeks, streams, and rivers.
• Tolerates salinity very well.
QUALITY TRAITS