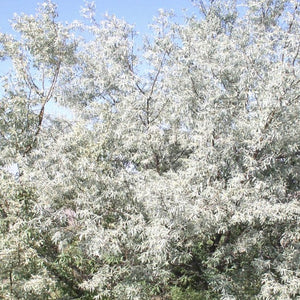 *This item is not for sale and listed as a plant library product for educational purposes only. 

LATIN NAME
Elaeagnus angustifolius
LONGEVITY
Perennial
SEASON
Warm
ORIGIN
Introduced
DETAILS
• A hardy shrub or small tree adapted to a wide variety of sites.
• Flowers in June, with the fruit maturing in August to October.
• Planted in shelterbelts and windbreak plantings.
• This plant has become invasive along creeks, streams, and rivers in many areas. Not recommended for planting due to the invasive nature of the plant.
• Russian olive is native to southern Europe and western Asia.
• Provides good food and cover for wildlife.
QUALITY TRAITS