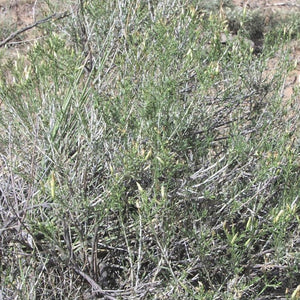 *This item is not for sale and listed as a plant library product for educational purposes only. 

LATIN NAME
Chrysothamnus pulchellus
LONGEVITY
Perennial
SEASON
Evergreen
ORIGIN
Native
DETAILS
• This plant is a densely branched shrub usually less than 3.5 ft. tall.
• Flowers August to December.
• Adapted to deep, sandy soils on sunny, open plains, valleys, drainage ways, and foothills.
• This plant is both cold hardy and tolerant of moisture and salt stress.
• Considered of little value to all classes of livestock. In general, wildlife and livestock forage only lightly on this species during the summer, but winter use can be heavy in some locations. Fall use is variable; the flowers are often used by wildlife and livestock. It is occasionally reported to be toxic to livestock.
QUALITY TRAITS