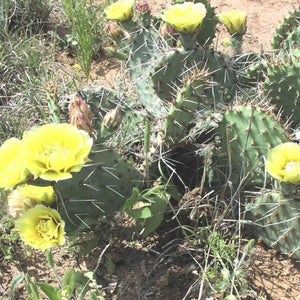 *This item is not for sale and listed as a plant library product for educational purposes only. 

LATIN NAME
Opuntia spp.
LONGEVITY
Perennial
SEASON
Evergreen
ORIGIN
Native
DETAILS
• There are 10 recognized varieties of purple-fruited pricklypear, and these may hybridize with other Opuntia species. This would explain some of the previous taxonomic confusion. "Brown- spined" pricklypear (Opuntia phaeacantha) is likely the most widespread and common pricklypear in the southwest.
• The bright yellow to pink-orange flowers appear in May to June. The purplish, maroon, fleshy fruit (tunas) are relished by people and eagerly devoured by javelina, pack rats and coyotes.
• Livestock will graze the pads and fruit when the spines have been burned off.
• Adapted to a variety of habitats throughout the western portion of Texas.
QUALITY TRAITS