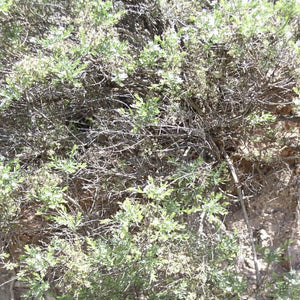 *This item is not for sale and listed as a plant library product for educational purposes only. 

LATIN NAME
Glossopetalon planitierum (synonym: Forsellesia planitierum)
LONGEVITY
Perennial
SEASON
Warm
ORIGIN
Native
DETAILS
• Growth form is a deciduous, dense, spiny shrub 3 to 6 feet tall.
• The slender greenish stems are spine-tipped.
• Small white flowers appear in May to July, and reddish-yellow fruits mature in August.
• Mule deer are known to browse the leaves and twigs.
• Adapted to rocky calcareous slopes in the Texas Panhandle.
QUALITY TRAITS