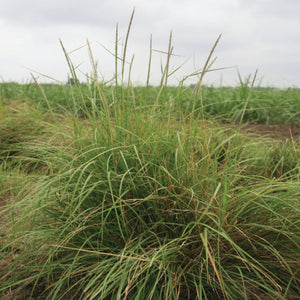 Call For Pricing.
Planting Rate: 2-3 pounds PLS per acre
Latin Name: Pappophorum vaginatum (Buckley)
Longevity: Perennial
Season: Warm

Origin: Native
Details:
Includes four distinct populations of whiplash pappusgrass, each increased in isolation to maintain genetic diversity of the wild populations.

Features green foliage with a white-colored spikelet.

In West Texas, it will grow 3-5 feet tall and will produce seed continuously from May to first frost.

Recommended for critical site revegetation, roadside plantings, erosion control, and for inclusion in range seeding mixes. 

Provides quick cover in loam and clay loam soils.

Areas planted to Permian Germplasm should be deferred from grazing until plants are well established. 

No severe insect or disease problems have been observed in whiplash pappusgrass once established.
Quality Traits