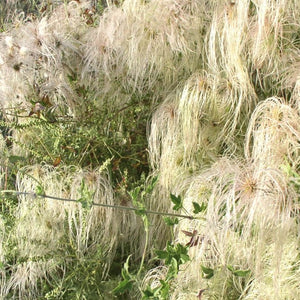 *This item is not for sale and listed as a plant library product for educational purposes only. 

LATIN NAME
Clematis drummondii
LONGEVITY
Perennial
SEASON
Warm
ORIGIN
Native
DETAILS
• Other common names include, "Texas virgin's bower," "Goatbeard," "Grandad beard," "Drummond clematis," and "Love-in-the-mist," to mention a few.
• This vine has slender, woody stems with twining petioles.
• Found growing on fence-lines and over shrubs and rocks on well-drained soils.
• It is a dioeceous plant, with male and female flowers on separate plants.
• The flowers on both are inconspicuous, appearing in the spring and summer, but on the females they are followed by extremely showy fruits with 3 inch-long silvery tails from August to October.
• The long silvery tails resemble an "Old man's beard," thus the name reference.
• This plant is cold hardy into the teens, but will grow from the roots the next spring.
• It can tolerate moisture as well as drought. Once established, it is almost impossible to eliminate.
QUALITY TRAITS