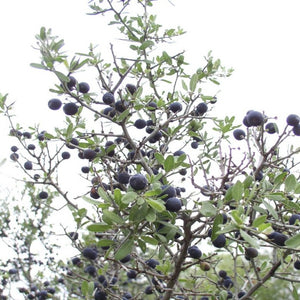 *This item is not for sale and listed as a plant library product for educational purposes only. 

LATIN NAME
Ziziphus obtusifolia (synonym: Condalia obtusifolia)
LONGEVITY
Perennial
SEASON
Warm
ORIGIN
Native
DETAILS
• Other common names, "Condalia," "Blue-thorn," "Chapparal bush," and "Texas buckthorn."
• Lotebush is a spiny, multi-branched deciduous shrub with grayish green branchlets, 3 to 9 feet tall.
• The upper side of the leaves are shiny green.
• The small greenish flowers bloom in June, fruit ripens late June to July.
• The small black fruit is not tasty but is eaten by small mammals and several varieties of birds.
• The leaves are occasionally browsed by deer, cattle, sheep, and goats, but the spines may cause mouth injuries.
• Some birds such as the "Cactus wren," will nest in this plant.
• Lotebush does provide good cover for ground nesting birds and small mammals.
• Adapted to heavy clay soils and limestone soils of central, northern, southern, and west Texas.
QUALITY TRAITS