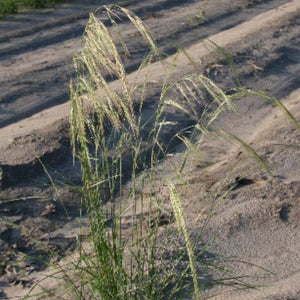 *This item is not for sale and listed as a plant library product for educational purposes only. 


PLANTING RATE
0.5-1 pounds pure live seed (PLS) per acre
LATIN NAME
Aristida purpurea Nutt.

LONGEVITY
Perennial
SEASON
Warm
ORIGIN
Native
DETAILS
• Loma Germplasm purple threeawn is recommended for critical site revegetation, roadside plantings, erosion control, wildlife plantings, and for inclusion in range seeding mixes on fine sandy soils.
• Plant in late fall or spring.
• Contains approximately 4,813,000 seeds per bulk pound.
• When planted in a mix, adjust the seeding rate to the desired percentage of the plant on the site.
• No severe insect or disease problems have been observed in purple threeawn once established.
• Seed quality of Loma Germplasm averaged 15% PLS in seed increase fields.
• Potential seed yields per acre have been calculated at 10 PLS lb/acre/year on 36" bedded rows with a plant population of 14,000 plants per acre.

DESCRIPTION
Loma Germplasm purple threeawn (Aristida pupurea Nutt.) is a warm season, perennial grass with dense basal leaves. The seed is easily recognizable by its 3 long awns (Fig.1). This selection originates from collections made from native plants growing in the South Texas Plains.