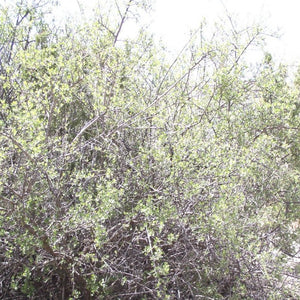 *This item is not for sale and listed as a plant library product for educational purposes only. 

LATIN NAME
Rhus microphyll
LONGEVITY
Perennial
SEASON
Warm
ORIGIN
Native
DETAILS
• Other common names, "Desert sumac," " Scrub sumac," "Small leaved sumac."
• This heavily branched deciduous shrub stands 3 to 10 feet tall.
• Produces fruit from May to July.
• Leaves are browsed by deer, small mammals, and occasionally by livestock.
• The fruit is consumed by quail, turkey, and several other species of birds and small mammals.
• Provides good cover for wildlife.
• Adapted to dry, rocky hillsides or gravelly mesas at altitudes of 2,000 to 6,000 feet.
QUALITY TRAITS