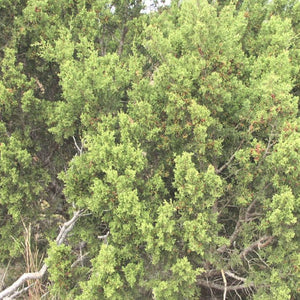 *This item is not for sale and listed as a plant library product for educational purposes only. 

LATIN NAME
Juniperus erythrocarpa (synonym: Juniperus pinchotti)
LONGEVITY
Perennial
SEASON
Evergreen
ORIGIN
Native
DETAILS
• Other common names, "Pinchot Juniper."
• Growth form is a scraggly evergreen shrub or small tree, 3 to 20 feet tall.
• It has multiple stems; the leaves are scale-like and are aromatic when handled.
• Fruit ripens August to September, female plants only.
• This juniper is poor forage quality for wildlife and livestock.
• The seeds are consumed by several species of birds and small mammals.
• Is a very hardy plant and will root sprout following a fire.
• Adapted to gravelly, rocky, limestone hills, and gypsum soils.
QUALITY TRAITS