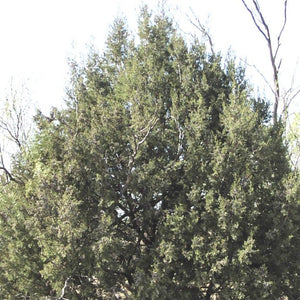 *This item is not for sale and listed as a plant library product for educational purposes only. 

LATIN NAME
Juniperus monosperma
LONGEVITY
Perennial
SEASON
Evergreen
DETAILS
• Evergreen tree sometimes attaining a height of 50 feet, with a trunk 3 feet in diameter. Most commonly 10 to 15 feet tall.
• Flowers March to April; fruit ripens in September (only on the female plants).
• This juniper grows rapidly and is long lived.
• The fruit is eaten by songbirds, quail, coyote, raccoon, and several other small mammals.
• Southwest Indians sometimes ground the fruit into flour to make bread.
• The wood is used locally to make posts and fuel.
• Adapted to lower hills and slopes on a variety of soils and sites at altitudes of 3,000 to 7,000 feet.
QUALITY TRAITS