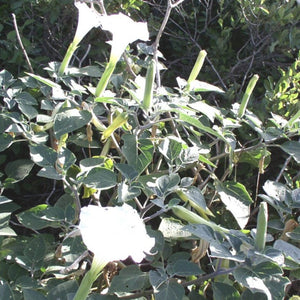 *This item is not for sale and listed as a plant library product for educational purposes only.

LATIN NAME
Datura wrightii
LONGEVITY
Perennial
SEASON
Warm
ORIGIN
Native
DETAILS
• There are several species of jimsonweeds in the south-central US, and all are very similar in appearance. Datura wrightii, known as "Sacred thorn-apple" is the most common in the Texas Panhandle eastern New Mexico.
• Flowers May to October.
• The large white flowers are 8 inches long in full bloom, very showy.
• The entire plant is covered with small, spreading hairs.
• This plant is widely found in disturbed sites, waste places, old fields, and open areas.
• Poisoning of both livestock and humans can occur from ingestion of any part of the plant.
QUALITY TRAITS