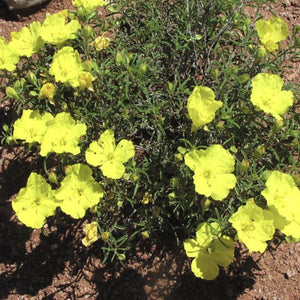 *This item is not for sale and listed as a plant library product for educational purposes only.

LATIN NAME
Calylophus serrulatus
LONGEVITY
Perennial
SEASON
Warm
ORIGIN
Native
DETAILS
• Other common names include, "Berlandier's sundrops", "Square-bud primrose", and "Beach evening primrose".
• Growth 2-31 inches tall, herbaceous above, woody below.
• Flowers May to August.
• The flowers close at night then reopen at sunrise.
• This plant is very drought resistant; the leaves fold during the hot mid-day sun, resulting in less water loss through the leaf surface.
• Readily eaten by livestock, particularly the new growth, will decrease on overgrazed rangeland.
• Excellent muledeer food.
• Adapted to dry rocky, gravelly, or sandy prairies.
QUALITY TRAITS