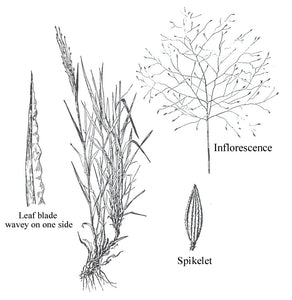 *This item is not for sale and listed as a plant library product for educational purposes only. 

LATIN NAME
Leptoloma cognatum
LONGEVITY
Perennial
SEASON
Warm
ORIGIN
Native
DETAILS
• Short-grass with a large seedhead, nearly as wide as it is long.
• The seedhead breaks loose at maturity forming small tumbleweeds.
• One side of the leaf blade is wavey.
• Is fairly palatable and is consumed by large and small mammals.
• Upland game birds eat the caryopsis.
• Adapted to both sandy or clay soils of the plains and prairies; often found alongside roadways.
QUALITY TRAITS