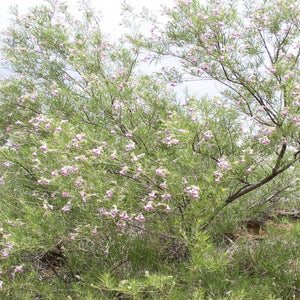 *This item is not for sale and listed as a plant library product for educational purposes only. 

LATIN NAME
Chilopsis linearis ssp. Lineari
LONGEVITY
Perennial
SEASON
Warm
ORIGIN
Native
DETAILS
• Other common names, "Flowering-willow" and "Willowleaf-catalpa."
• This is a shrub or slender tree that grows up to 30 feet tall, with trunks usually leaning.
• Has been planted in numerous wind-break plantings throughout the eastern Texas Panhandle.
• Flowers May to June; the flowers are a very showy pink to purple with a white, yellow or purple-streaked throat.
• Flower pollen is used by bees to make very good honey.
• The fruit is a 4- to 12-inch long capsule.
• Various birds consume the winged seeds.
• The wood is used for fence posts and fuel, and baskets are woven from the twigs.
• It is reported, in Mexico an extraction of the flowers is used for coughs and bronchial disorders as a remedy.
QUALITY TRAITS