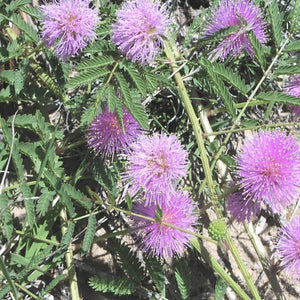 *This item is not for sale and listed as a plant library product for educational purposes only.

LATIN NAME
Schrankia uncinata
LONGEVITY
Perennial
SEASON
Warm
ORIGIN
Native
DETAILS
• Also known as "Shame-vine"
• Leaves are sensitive to touch; they will fold into a closed position when disturbed.
• Grows 1-2 feet tall.
• Flowers May to August
• The stems have "Catclaw" like prickles.
• Palatable to livestock.
• Quail will readily eat the seed.
• Is an important indicator plant of range condition, decreasing when overgrazed.
• Occurs on dry, rocky, or sandy soils.
QUALITY TRAITS