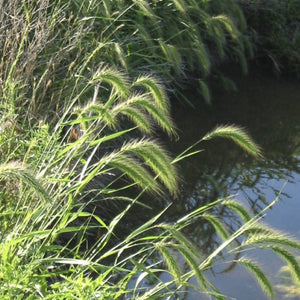 LATIN NAME
Elymus Canadensis
LONGEVITY
Perennial
SEASON
Cool
ORIGIN
Native
DETAILS
• Often confused with Virginia Wildrye (Elymus virginicus). The base of the glumes on Canada Wildrye is "V" shaped and longer awns (⅜-1 ¼ in) whereas Virginia Wildrye will have glumes that are "U" shaped and shorter awns (3/16-¾ in).
• Canada Wildrye grows abundantly on prairie sites, but is also found in shaded areas on bottomland sites.
• Best adapted to medium-textured soils, but grows on most all types of prairie soils.
• Found in abundance along roadsides and protected areas, which indicates that it is a decreaser on prairie sites.
• Very palatable and readily eaten by all classes of livestock.
QUALITY TRAITS