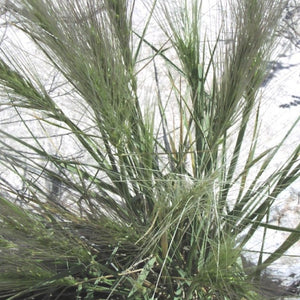 Call For Pricing. 

LATIN NAME
Elymus elymoides
LONGEVITY
Perennial
SEASON
Cool
ORIGIN
Native
DETAILS
• Short-lived perennial bunchgrass, without rhizomes, growing 6-18 inches tall.
• Starts growth in early spring, and flowers in late spring.
• Will re-grow and flower a second time with favorable moisture.
• Reproduces from seed and tillers.
• Adapted to a wide range of soils.
• Can withstand high alkalinity, and lime, and grows well in deep to shallow soils of textures ranging from sands to clays.
• Most abundant on disturbed sites.
QUALITY TRAITS