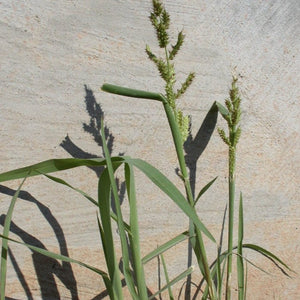 *This item is not for sale and listed as a plant library product for educational purposes only. 

LATIN NAME
Echinochloa crusgalli var. crusgalli
LONGEVITY
Annual
SEASON
Warm
ORIGIN
Introduced
DETAILS
• Considered a "weedy" annual
• Tends to prefer moist areas and is commonly found on disturbed sites, roadsides, ditches and field borders.
• Does not provide very good grazing for livestock.
• The Latin name "Echinochloa" means "Hedgehog-grass," and refers to the seeds which are covered with many hairs that resemble a hedgehog.
• Excellent for waterfowl; good cover and nesting for grassland birds.
QUALITY TRAITS