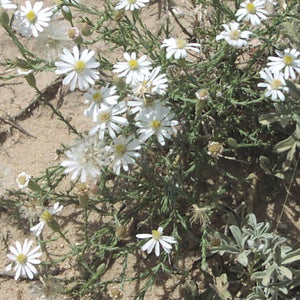 *This item is not for sale and listed as a plant library product for educational purposes only.

LATIN NAME
Lucelene ericoides
LONGEVITY
Perennial
SEASON
Warm
ORIGIN
Native
DETAILS
• Other common names are "Rose heath aster" and "Sand aster"
• Growth 2-8 inches
• Flowers May to July
• Prefers dry, open sandy or gravelly sites and rocky eroded hillsides.
• Forms patches from creeping roots.
• Was used medicinally by the Hopi, Navajo, and Zuni to treat nose problems, rheumatism, and swellings.
QUALITY TRAITS